Join us Saturday, April 13th for the 2019 South Texas Council Boy Scouts of America Scout Expo.
We have invited Scouting, Educational, Community, and other interested Groups to host a booth or table at the Expo.  We will have games, activities, educational exhibits and much more for the Cub Scouts and their Families to experience.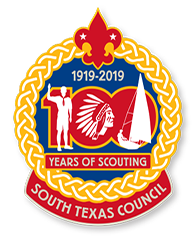 BSA Scouts, Venture Crews, Explorer Posts and Sea Scouts will be competing in the Centennial Games throughout the day.
Cub Scouts and visiting youth can enjoy the following games and exhibits:
Games:          Shooting Sports--Archery and BB Guns
                        Pinewood Derby tracks and cars
                        Box Hockey
                        Knot tying
                        Rainwater Regatta
                        Whittling
                        Nerf Bow & Arrows
                        Monkey Bridge
Exhibits:       Aransas National Wildlife Refuge
                        Border Patrol
                        Robstown Fire Department
                        Robstown Police Department & K9 Unit
                        Nueces County Sheriff's Department
                        Robstown EMS
                        Crew 16 Cavalry Camp
Concessions:  The Fairgrounds Staff will be selling food and drinks throughout the day. 
If you would to host an Expo booth or activity, contact Richard Amaya (rga0806@aol.com / 361-549-4850).
2019 South Texas Council Boy Scouts of America Scout EXPO will be held in the Marvin and Laura Berry Pavilion at the Richard M. Borchard Regional Fairgrounds
See below for parking instructions and where the event will be held.