Surfing a Sea of Quilts 
Richard M. Borchard Regional Fairgrounds Exhibit Hall A
Friday & Saturday, February 3-4, 2023
10am – 5pm   
Over 200 beautiful quilts and needlework items will be on display at the 17th biennial Quilt Show hosted by the Coastal Bend Quilt and Needlework Guild.   You can bid on a quilt at our live auction and on a variety of items at our silent auction. If shopping is your passion, visit our many vendors showcasing sewing machines, leather, yarns, fabrics, crafting items, and more.  Bring your scissors to be sharpened and meet the author of the Virginia Davies quilt mystery series! Stop by our Country Store where you will find an array of items beautifully crafted by our multi-talented guild members plus a scrap trough to feed your appetite for fabric pieces large and small. 
This judged show will be held at the Richard M. Borchard Regional Fairgrounds Exhibit Hall A
1213 Terry Shamsie Blvd.
Robstown, TX  78380

Admission is $10. Tickets may be purchased at the door.
Parking is free!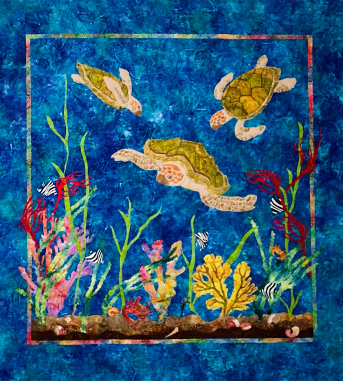 The drawing for this year's donation quilt "Swimming the Oceans of Time"
will be held on Saturday, February 4, 2023. 
Tickets ($1 each or 6 tickets for $5) can be purchased
online now at www.ccquilt.com or at the show.