2019 Hispanic Heritage Festival Sponsored By South Texas Ford
Join us October 6 for the Free Admission 2019 Hispanic Heritage Festival sponsored by South Texas Ford. In the Exhibit Hall A at the Richard M. Borchard Regional Fairgrounds from 1:00pm-8:00pm. With live music, food vendors, and much more!
Hispanic Heritage Festival Music Lineup:
1:00 pm -- Mariachi Aguila
2:00 pm -- Ballet Alcorta Compania de Danza
3:00 pm — Albert Flores Y La Juventud
4:00 pm — Vidal
5:00 pm -- La Calma
6:00 pm — Stefani Montiel
7:00 pm -- Solido
With the Dallas Cowboys TV viewing presented by Herman & Herman
For info on becoming a vendor view below and download vendor application:
Any applications before 09/25/2019 entry fee will be $50
ALL applications after this date will be $75 entry fee.
Entry fee pays for a 10x10 spots; vendors must bring their own chairs, tables, anything they need to sell their items.
Food vendors: can't sell anything the venue sells; if another vendor is selling the item they want to sell, no, it's one vendor per item (except for funnel cakes & turkey legs)
FOOD VENDORS must have all necessary permits / Contact Robstown City Health Inspector at (361)387-4589, #3 Armando Calvo for permit.
Electricity: all vendors needing electricity needs to contact the Fairgrounds the sooner the better. Contact: 361-387-9000

For more info on becoming a vendor contact:
Contact: Celeste
Phone: 361.289.0111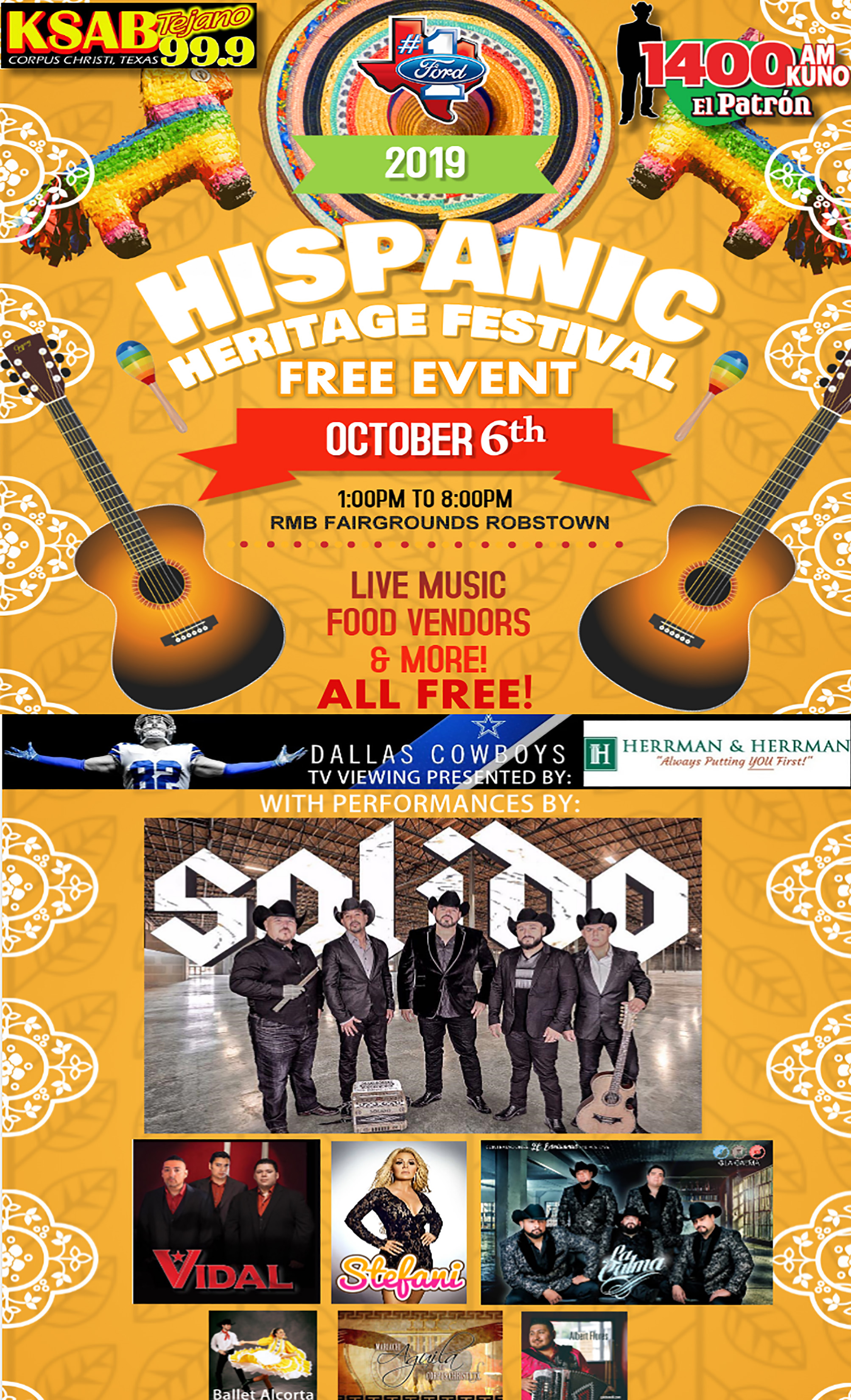 The Hispanic Heritage Festival event will be held in the Exhibit Hall A at the Richard M. Borchard Regional Fairgrounds. See below for parking instructions and where the event will be held.