Micro Wrestling is coming May 1, 2021, to Richard M. Borchard Regional Fairgrounds! May 1, 2021 from 8:00pm-10:00pm
Don't Miss the Most Outrageous Show Touring the US at the RMB Fairgrounds!
THIS EVENT IS FOR ALL-AGES!
TICKETS ON SALE NOW! CLICK HERE
Micro Wrestling Event will be held in the Marvin and Laura Berry Pavilion (SEE BELOW FOR DIRECTIONS & PARKING)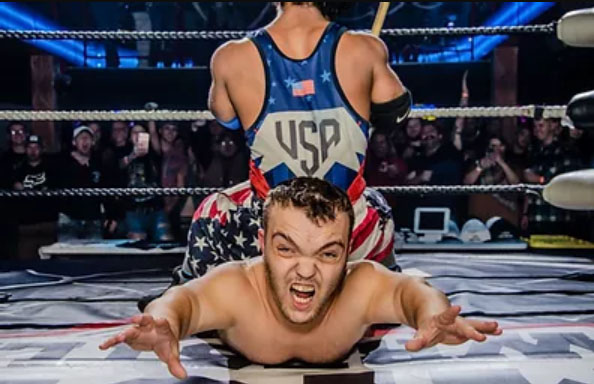 The Micro Wrestling Federation is a full-scale, WWE-type event supported by an entire cast under five feet tall. It's going to be pandemonium as the Micro Wrestlers body slam, bear hug, and headlock throughout an evening of nonstop action. Four incredible matches take place during the 2-hour event which will provide great fun for the entire family.
Two Single Micro Matches: Who are the toughest Micro wrestlers? Come find out!
Micro Brawl: Body slams, suplexes, and punches to the face can take place anywhere in the venue! Get ready for up-close and personal Micro action!
Micro Rumble: Six Micro superstars enter the squared circle and stand tiny toe-to-tiny toe against one another in the main event! The belt is on the line and only one Micro wrestler will leave as champion.
Doors open at 6:30pm and the show begins at 8pm-10pm.
The Micro Wrestling show is a family-friendly event for all ages.
Tickets:
Individual General Admission Tickets (Available at the Door Day of Show) - $20 each
General admission for 2 is $30
General admission for 4 is $60
General admission for 10 is $150
Ringside for 4 is $120
Children 5 and under are FREE but must sit in lap.
All seating is socially distanced.
For tickets and show details CLICK HERE

For your safety and comfort, the Richard M. Borchard Regional Fairgrounds has adopted new policies to keep you safe for your next visit. 
Wider aisles to allow social distancing
More spacing for booths to accommodate
social distancing
One-way aisles to create a comfortable &
convenient shopping experience
Sanitizing stations
FACE MASK:
Under the authority of Nueces County, effective March 17, 2021, and continuing until May 19, 2021, at noon unless modified, amended, rescinded, or superseded by the Commissioners Court before that date: Everyone visiting the Nueces County Courthouse, or other County operated facilities (Richard M. Borchard Regional Fairgrounds), is required to wear a face-covering.
Thank you for your cooperation and we hope you enjoy the event!
PARKING & DIRECTIONS:
Micro Wrestling will be held in the Marvin and Laura Berry Pavilion at the Richard M. Borchard Regional Fairgrounds. See below for parking instructions and where the event will be held.