35th Annual Cottonfest BBQ Cook-Off
November 22, Friday 5pm-12am
November 23, Saturday 11am-12am
Admission: $5 (Ages 10 and up) 
The City of Robstown is happy to announce that this year will have a petting zoo, pony rides, GIGs for kids (free) and helicopter rides!
Music Performances schedule:
Friday - 80's Theme Night
- Freeze Frame
- Spazmatics
Saturday - Tejano/Country
- Los Arias
- George Strait Tribute Band
Food
Music
Free Parking
Fun for the Whole Family
BBQ Cook-Off!
10,000 Guaranteed Payout!
Brisket
Spare Ribs
Chicken
Overall
$200 Entry Fee
(Includes 4 tickets to Cottonfest per team)
Jackpot Beans - $20.00
Jackpot Fajitas - $20.00
Cookers Choice - (Must contain meat) - $20.00

For information please contact:
Jason Garcia - 361-533-4452
Ginny Perez - 361-387-4589 ext. 134
Payout schedule and additional event information will be posted at: www.cityofrobstown.com/cotton-community-partnership
Now taking vendor applications!
Click on the Vendor Form button to download application.

For more info on becoming a vendor please contact Wanda Russell at 361-933-5211
Fax #: 361-387-6346
email: wrussell@cityofrobstown.com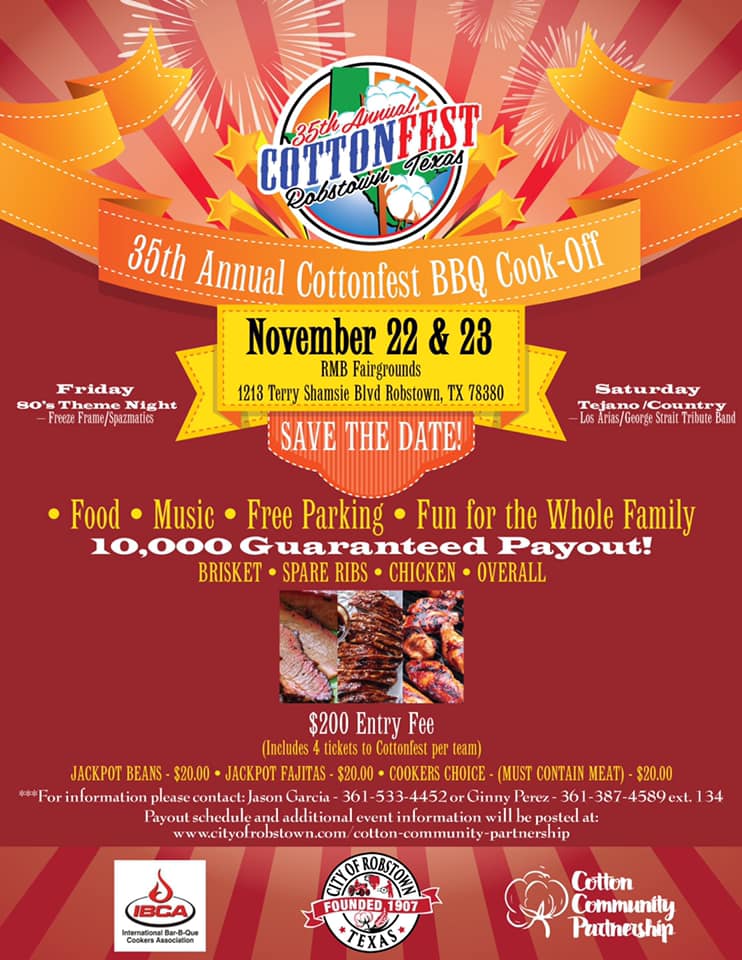 Cottonfest will be held at the Marvin and Laura Berry Pavlion and Exhibit Hall A at the Richard M. Borchard Regional Fairgrounds. See below for parking instructions and where the event will be held. Click here for more information on handicap parking spaces and more.