35th Annual Cottonfest BBQ Cook-Off
November 22, Friday 5pm-12am
November 23, Saturday 12pm-12am
Admission: $5 (Ages 10 and up) 
The City of Robstown is happy to announce that this year will have a petting zoo, pony rides, GIGs for kids (free) and helicopter rides! With music, food, vendors, and so much more! 
Music Performances schedule:
Friday, November 22
5:00pm-6:00pm DJ Music/Annoucements
6:00pm-7:00pm Chicas Rock
7:00pm-8:00pm DJ Music/Annoucements
8:00pm-9:00pm Freeze Frame
9:00pm-9:30pm DJ Music/Annoucements
9:30pm-11:15pm Spazmatics
Saturday, November 23
12:00pm-12:15pm Robert Driscoll Cheerleaders
12:15pm-12:30pm Seale Junior High Cheerleaders
12:30pm-12:45pm St Anthony's Cheerleaders
12:45pm-1:30pm DJ Music/Accouncements
1:30pm-2:00pm Yahira Aguilar
2:00pm-3:00pm Just for Kix Dance Team
3:00pm-4:00pm Zumba Demo with Erin Doria
5:00pm-6:00pm BBQ Cook-Off Awards
6:00pm-7:00pm DJ Music/Announcements
7:00pm-7:45pm Sound check for George Strait Tribute Band
7:45pm-8:30pm DJ Music/Announcements
8:30pm-9:30pm Los Arias
10:00pm-11:30pm George Strait Tribute Band
Lineup & Time Schedules are subject to change without notice. Revised 11/18/2019
BBQ Cook-Off!
10,000 Guaranteed Payout!
Brisket
Spare Ribs
Chicken
Overall
$200 Entry Fee
(Includes 4 tickets to Cottonfest per team)
Jackpot Beans - $20.00
Jackpot Fajitas - $20.00
Cookers Choice - (Must contain meat) - $20.00

For information please contact:
Jason Garcia - 361-533-4452
Ginny Perez - 361-387-4589 ext. 134
Payout schedule and additional event information will be posted at: www.cityofrobstown.com/cotton-community-partnership
Now taking vendor applications!
Click on the Vendor Form button to download application.

For more info on becoming a vendor please contact Wanda Russell at 361-933-5211
Fax #: 361-387-6346
email: wrussell@cityofrobstown.com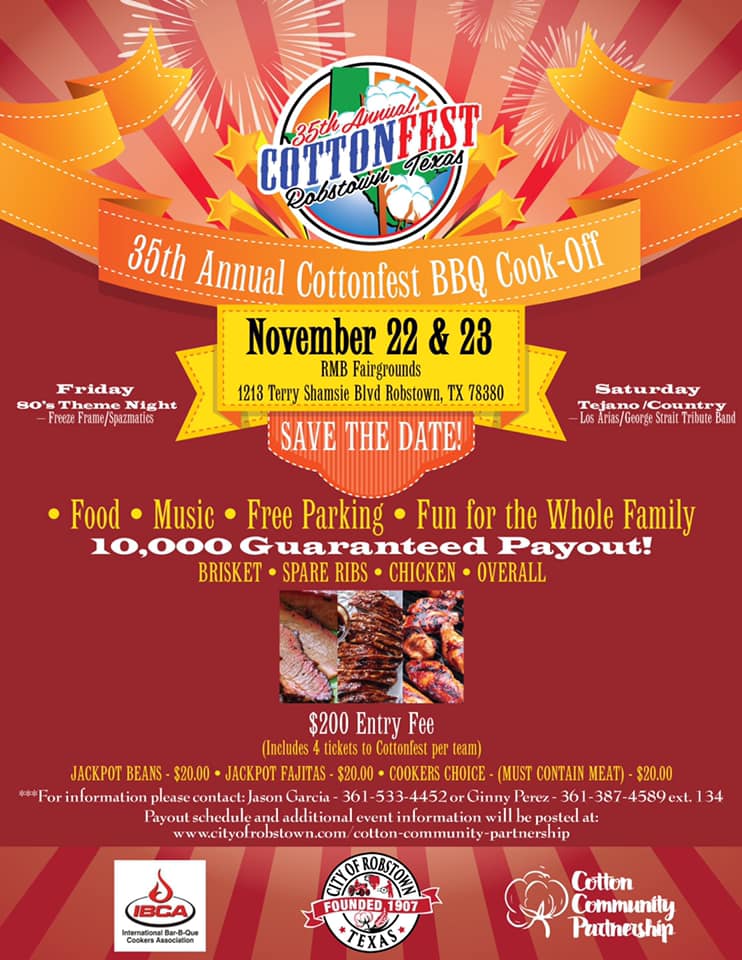 Cottonfest will be held at the Marvin and Laura Berry Pavlion at the Richard M. Borchard Regional Fairgrounds. See below for parking instructions and where the event will be held. Click here for more information on handicap parking spaces and more.