On Wednesday, March 31, the Corpus Christi–Nueces County Public Health District will administer 1st and 2nd doses of Moderna vaccines during a walk-thru clinic at the Richard M. Borchard Regional Fairgrounds, 1213 Terry Shamsie Boulevard, Robstown, Texas.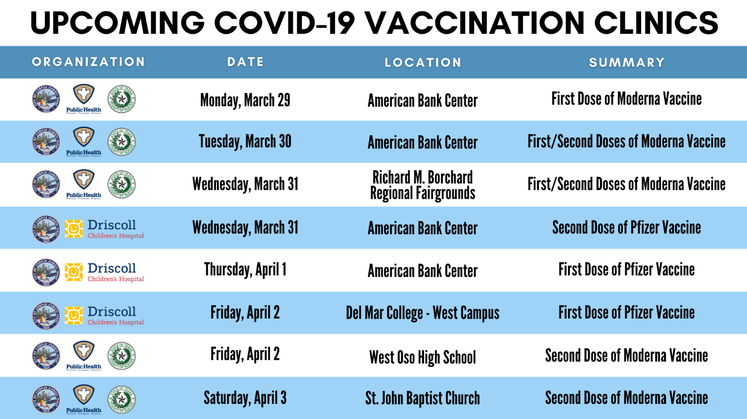 Things to know:
Health District clients can pre-register by calling 361-561-1101. To pre-register online, visit www.cctexas.com/vaccineregistration and click on the "Vaccination Registration" link. During online pre-registration you must receive a Quick Response (QR) code. Once the online pre-registration limit is reached, you will not be able to register until additional vaccines become available.
Notification of appointment date and time will be messaged to clients by text or landline scheduled for individuals pre-registered.
If you are not pre-registered, you may walk-in to get registered and vaccinated on a first come first served basis.
Patrons taking part in Driscoll Children's Hospital vaccine clinics must register. Visit www.driscollchildrens.org/covid19vaccine. 
Appointments also can be made by calling 1-844-977-1477 Monday-Friday, 8 a.m.-5 p.m.
New registrations will open upon vaccine availability for future clinics.
Vaccines of different brands should not be mixed. If you received Moderna vaccine for your first dose, you should receive Moderna vaccine for your second dose.
If you registered for first dose, you do not need to re-register for the second dose.